Today, on Farscape…
"Moya wants to know, I want to know; if you stay, will you be able to save Zhaan?"
"I think I may have a way. It's chancy, and will require lashings of deception and trickery."
"Finally. You and I get to play to our strengths."
Fifteen solar days after Moya's escape from Scorpius' Command Carrier, the remaining crew are searching possible locations that Aeryn's Prowler might have made it to. Unfortunately, on this planet they find themselves entangled in local politics and one is arrested for jaywalking.

---
Weston
We've seen planets with uniform cultures before. Fairly frequently, there's a reason it's a trope. But a planet where 90% of the population is lawyers? Oh boy.
The episode is a flashback, a telling of the story that happened elsewhere while Crichton was scrounging for food and Aeryn was negotiating with Crais. The original intent was to air this as the season two premiere, but it was swapped out for Mind the Baby. I think I can see why: While this episode does have character development, the absence of a cliffhanger resolution would have incited fan riots.
I am extremely fond of continuity in a series, especially details carried between consecutive episodes. (This is a part of my unending love for Firefly.) The leftover Kiva barbecue that shorted out the Transport Pod is a perfect example.
There's something familiar about the lawyer hats. They look a little like Klingon forehead ridges without the actual ridges. Zhaan winds up in a gray prison jumpsuit that she still makes sexy. She also gets an odd scene where two officials are locking her into a straitjacket – this seems like a metaphor for her mental state at the time. After that scene she locks down emotionally and verbally, accepting the deaths of those she left behind and resuming the Delvian Seek.
And, of course, the kiss with D'Argo. Arg.
Most of this is secondary to the plot. Rygel and Chiana wind up taking on the role of the defense attorney after Zhaan's public defender refuses to publicly defend her. Unfortunately, the court takes a very dim view of dishonesty and misrepresentation, immediately disabling the majority of their options. It takes a bit of actual detective work and some assistance from a non-lawyer local to get them on the right track. Which, naturally, leads to dishonesty and misrepresentation.
Crichton's hair: Calm.
---
Tessa
I happen to really enjoy character development episodes, and when it's paired with context for something that badly needed it, it's all the better.
We get a lot of context for Season Two Zhaan in this episode, and I'm very happy to have it. Throughout the course of the episode we watch Zhaan reach the mental state that we found her in at the beginning of the season. We also get a bit of insight as to just how she managed to gain the more distasteful personality traits that she's only recently started shedding. Having to play mother to the likes of Chiana and Rygel for a prolonged period of time would probably make anyone a bit self-righteous.
We also get a little more insight with Rygel. While I hesitate to call it "development" (after all, it's not the first time we've seen him exhibit this behavior, and it is a flashback), it smooths out the curve a bit for his growth between the end of the last season and the beginning of this one. Not only is he just as upset at the idea of giving up on the search for the others as everyone else is, but he almost simultaneously offers to serve as Zhaan's lawyer along with Chiana. True, he didn't know about the shared punishment for a lawyer caught lying at the time, but once he's told that any deception on their part will get them killed also, he doesn't back down. He's extremely doubtful of their chances at that point, but he doesn't withdraw his offer. Early Season One Rygel would have maybe tossed out a token effort, running back for the ship to save his own hide once he discovered he was at risk also. We've gotten hints of this shift in his personality prior to now, but this may be the first real proof we've seen that he really did take something from his talk with Crichton at the end of last season.
This is nothing new, but I love how shameless Rygel and Chiana are about their own methods, especially when talking to each other. "Not lie? The two of us? Are you mad?!"
Unless I'm mistaken, this is the second kiss we've seen shared between Zhaan and D'Argo? The first was D'Argo mistaking Zhan for someone else and this one was a completely fake illusion. Sorry Weston, just saying.
Finally, while overall I liked the episode… the setting bugs me. A planet where 90% of the population are lawyers? Litigara? Really? That sounds like something I'd expect to see more at home in a Hitchhiker's setting than in Farscape. Could they really have not pulled off this same story without being so heavy handed?
Now if you'll excuse me, I'm going to go try to scrub the image of John's exploding face out of my brain.
---
Kevin
I love that they were able to keep the episode they had previously shot and use it later, using a Bottle Episode, almost reminiscent of a Clip Show mechanic. Here we only have about ten minutes of "new" footage, and they were able to save a whole episode off the cutting room floor and keep it from being a "Lost Episode" on the DVD.
I had actually forgotten about this episode until about three quarters of the way through, possibly because when I saw this ten years ago I may have missed the first half of the episode. My TV-watching schedule was always wonky.
What follows is a fairly standard Civil Rights plot, where the Big Corporate Man is twisting the law just so he can have his own way, and framing others for murder to cover his own tracks. It's a familiar concept, but taken to Farscape levels all the same, with Zhaan's hallucinating explained, and fantastic Rygel bonding time.
I'm going to disagree with Weston and say that the Litigarans' costumes didn't so much remind me of Klingons as they did of Q in his courtroom gear. Which, now that I think about it, may or may not have been intended all along.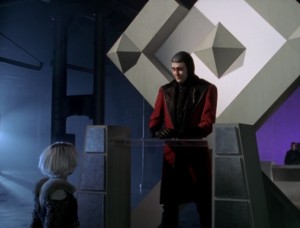 Honestly, there's not a whole lot I can say, other than I really liked this one. So on to the notes!
MORE AWESOME PILOT FACE.
I love that Rygel and Chiana can relate over being completely amoral.
Don't knock Bottle Episodes. Some of the best episodes of many series are either Bottle Episodes and/or Lower Deck Episodes. Picard singing "Frere Jacques" to a bunch of kids in the turbolift, anyone?
Yes, I am aware this doesn't count as a Bottle Episode. It's a tiny bit of a Lower Deck one, though, with the focus being on Zhaan, Chiana and Rygel.
Is the makeup designer getting lazy? These aren't Sebaceans, but for the shiny faces you couldn't tell.
---
Noel
I'm conflicted about this episode, mostly because of the ridiculous setting. As the others have pointed out, the world of Litagara is heavy-handed and underthought right from its very title, the type of setting I hoped we'd left behind half way through the first season. It doesn't make any frelling sense! A society where 90% of the people are lawyers just doesn't work, especially if it's isolated to a single planet like this is. It would stagnate the job market, cause massive social decay (takes a lot more than 10% to to maintain other utilities), and the pool of potential clients would be so thin that either people would be so unable to financially support themselves through this trade that they'd swarm elsewhere, or the entirety of the society would pick itself to pieces as lawyers created every trumped up charge they could just to pay the bills. This butts up against the otherwise fascinating idea of lawyers being unable to falsify charges for fear they'd suffer the same fates as their clients, but I have to ask simply: how does this system sustain itself?
It. Makes. No. Sense. I like the idea that their simple law book has been expanded and revised to the point of near incomprehensibility, but that again would lead the majority of the population away from this trade and possibly even build public contempt toward it. I like the notion of the bottom 10% fighting for the same rights as the lawyers, but that number still doesn't make sense, I don't understand how lawyers raised themselves to this position to begin with, and we never really get to feel the experience of the trod upon lower class beyond some shoves in the background and shared words with a single bartender.
I think the real reason they didn't open the season with this episode is that this is a really week episode. There's fantastic stuff, which I'll get to in a second, but this entire setup is forced, artificial, and poorly developed to the point where one is just left scratching their heads. And as Kevin pointed out, they even dozed on on the makeup end, giving us a population that's pretty darn human, except for some pencilled on veins and a layer of morning cleanse facial cream. I think this totals up for why it's not the opener, even moreso than the fact that they don't resolve the cliffhanger, which I wouldn't have minded as it plays out the tension and uncertainty a little more.
But lets get to what makes it so strong: Zhaan. Her appearance in the season premier was strikingly different than the Zhaan we'd come to know; first she's in an almost catatonic state of denial, then becomes bitter and guarded and cautious to open up. Here is where we finally get the much needed context as to why she went that route. Guilt. Anxiety. Frustration. She was forced to abandon her comrades and every day that goes by, every day that a possible hiding place for them turns up empty, makes the chances of their survival slimmer and slimmer, and it's just eating away at her. I'm not a fan of hallucination/dream sequences, but the bits where her mind is slipping from her and she sees John, Aeryn, and D'Argo as shaded, posed phantoms, emptily glaring as they give voice to her internal anguish are absolutely haunting, especially when she's talking to the air and the guards ignore her while they strap her down in a full-body straight jacket.
And then we get to Rygel and Chiana. Making the two underhanded scoundrels of the shows into lawyers is brilliant, but then the story goes further by hitting them with the rule that they can't openly lie unless they want to be executed right alongside Zhaan. I love the sight of these two pouring through indecipherable books of law, partially regretting the mess they've stepped into, even as they beg Pilot to beg an increasingly impatient Moya to wait instead of flying off to look for Talyn.
It's a frustrating episode in the end. Rygel and Chiana are great, and this plot kinda needed to happen to push Zhaan over the breaking point, but the world in which it's set is so thoroughly unbelievable that it significantly weakens even the strong moments.
Though it does get bonus points for Chiana rambling a mile a minute when she spazzes out on methamphetamines.
Stark Unexplained Episode Count: 10
---
Episode [2.07]: Home on the Remains||Episode [2.09]: Out of Their Minds